Google is Removing Less Secure App Access Option on 30th May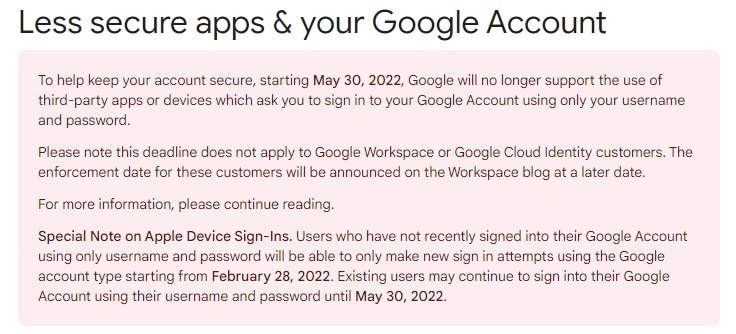 Google Less Secure App changes and How it Affects Gmonster
Google made an announcement recently that it will be removing the "Less Secure App access" option on 30th May. Users afterwards will no longer be able to access their Google accounts using apps that don't have a secure connection. If your business relies on Google Apps, you need to make sure that you are using a secure connection before 30th May. Otherwise, you will lose access to your account and your data!
By implication, Gmonster users will no longer be able to use the software with the Less secure app option; users have to switch to a secure connection type called App pass to be able to use our software through Internet Message Access Protocol (IMAP). A great relief right, yea.
Why is Google removing the Less Secure App option?
Google is removing the "less secure app" option from its security settings. This means that any app that uses the older, less secure authentication protocol will no longer be able to access your Google account. The change is necessitated by the need to improve security and protect users' accounts from unauthorized access.
However, it may cause some disruption for users who are still using older apps that haven't been updated to the new protocol. Suppose you're using an app that is affected by this change. In that case, you will need to update it to the new protocol to continue using it with your Google account. You can find more information about the change in Google's security here.
Where do we go from here?
You have to switch to a secure connection known as an app password, then you will be able to use the software through IMAP. The current way of doing it is to change your our proxy to access your Gmail with the software, and you don't change it again; otherwise, Gmail will request phone or email verification or turn off LSA.
The recently conducted research shows that using Gmail through app pass doesn't react to IP changes while Less Secure Apps do. You can switch proxies anytime, and no security warning will appear.
We have also reached out to Google representatives multiple times. They've assured us 100% that the app pass will work with IMAP after the changes. So, our users and subscribers need not worry about not being able to use GMonster again.
In subsequent blog posts, we will elaborate on setting up your account in readiness for the changes.
The GMonster software team continuously works on new and innovative features to make our products even more user-friendly and efficient. We'll be releasing several new features that we think you'll love in the coming months. Here's a sneak peek of what's to come:
– A new interface that is even more user-friendly and easy to use
– Follow up function, Warm up module, Gmail account creator
– Improved performance and speed
We are eager to show you what we've been working on. Stay tuned for more updates!