12 Ways to Make Money with Cold Emailing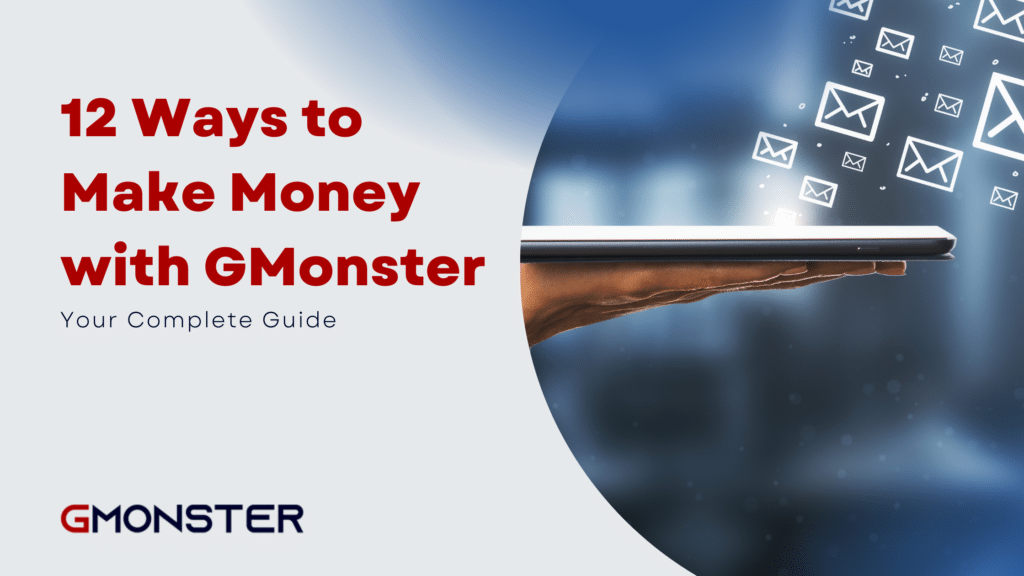 An email account can help you reach the maximum targeted audience to generate sales you have always wanted. Though sending a cold email takes less than a minute, sending an effective, collaborative, and lead-generating email takes smartness, creativity, and skill. And as keeping up with so many security and authenticity protocols is a hassle, a well-established platform like GMonster can help you maximize your email outreach. Also, with GMonster, you can enjoy 12 different, productive, yet easy ways to make money. The article below is your brief guide to using GMonster to make money.
How to Make Money with GMonster
GMonster comes with various opportunities to run cold email marketing campaigns, generate leads, and grow potential sales. You can choose one or more ways from the list below to boost your annual sales.
Benefit: With GMonster, you can send thousands of emails daily without the fear of spamming or blocking. Also, you can view all the incoming emails in one window and use GMonster's email customization tool 'Spintax' to send emails that can attract the clients and help you grow.
1.     Sell Warm Leads
A warm lead can sell your service or products to the people who show interest in your services or products. They can be your social media followers, the clients that have subscribed to your newsletter, or clients coming on a reference basis. You can also sell warm leads to other businesses that you think can help you grow.
For example, you can contact a plumber / a chiropractor / a wholesale supplier etc. to find new clients for them. You can agree in a monthly fixed fee or they can pay for each lead individually. Or if you own a travel company, you can send a collaborative email to the insurance companies for a mutual line of selling travel insurance on your site online. These are just a few businesses that came to my mind in this moment, but the opporunities are literally endless.
2.     Find New Leads
Once found, you can turn new leads into sales and for this, GMonster can help land your emails directly into the inboxes of the clients. Also, as you can send thousands, even millions of emails every day, you can expect to find many new leads daily.
You can do this by sending a customized email to your targeted audience that can grab their interest. For example, if you are a blogger like GardenInACity, you can send a free video tutorial that they may want to see. Or, if you run a business of selling digital services, you can offer a digital service at the lowest possible prices – the purpose is to get involvement!
3.     Promote Affiliate Offers
Affiliate marketing is a whole world where you can choose one of the many ways to earn money. One such way is promoting your affiliate offers (where a customer buys a product from the link attached in your content) via emails. You can send affiliate offers for the famous websites like Amazon associates and eBay partners or can work with other websites like ShareASale and GiddyUp as per your convenience.
4.     Promote CPA Offers
With CPA marketing offers, you can keep track of actual user actions like signups, service subscriptions, downloads, and purchases. If you promote CPA offers using GMonster, you can enjoy the edge of creating the most-effective marketing strategies depending on the CPA results and enjoy impressive sales. To send CPA offers via email, you can work with some bigger platforms like MaxBounty, CrakRevenue, Perfromcb, Peerfly, and ClickDealer.
5.     Promote Your Own Products
With an opportunity to send thousands of emails to potential customers, you can promote your own products like art and crafts, resin arts, candles, cakes, and confectionaries, or DIY stationery.
For example, The Botanical Candle Co. is selling its candles and Beautifully Handmade is selling handmade art.
6.     Promote Drop-shipping Store
Drop-shipping is another easy yet interesting order fulfillment process where you, as a store, don't have to keep the products you are selling via email marketing. You can use GMonster to promote your or your partner's products listed on drop-shipping stores like Shopify, Ali Express, Wholesale2b, or Spocket.
7.     Promote Drop-Servicing Store
Drop servicing (also called white labeling or service arbitrage) is another high-profit business where you can sell some services to your clients and can hire less expensive freelancers or workers to do the task. For example, you can promote your seller accounts of Upwork, Fiverr, Freelancer.com, or other service-providing businesses like Carpet Bright selling carpet cleaning services.
8.     Promote an Agency or Social Media Services
If you are a business that offers social media services to its clients, GMonster can be your ultimate marketing partner. With GMonster, you can promote and sell services like YouTube watch hours, YouTube subscribers, Instagram followers, Facebook likes, SMM panels, etc.
9.     Promote Your Online Course
If you have leading capabilities or can teach a skill or a course like mentoring, coaching, IELTS, SEO, or social media marketing, like Neil Patel, you can use the GMonster platform to introduce your business. You can also send your website's testimonials so more and more people can see, know, and trust your capabilities to give you the business.
10.     Create Partnership
Though you can market your own business or service through the efficacies of GMonster, you can also do this for a client. For example, you can create partnerships with a business and can ask for a certain percentage in overall sales or per client as per convenience.
11.     Promote Your Blog
If you are an expert DIY, medical, nutrition, health, or fitness blogger or run a blogging website in any other line, like Bite of Wellness blogging about gluten-free recipes, you can promote your site with GMonster. You can send your blogs with an interesting subject line to your clients and if they click, your website can grow and earn more.
12.     Build Audience for Spotify
An opportunity for music lovers – if you are a music or content creator and want people to listen to your work, GMosnter can provide you with the medium. You can promote your Spotify to build an audience and enjoy leads. This can also be a great way to promote new tunes/music for music creators.
GMonster is quite easy-to-use and can help you send emails in the most effective way possible. For a quick learning, you can watch the video tutorial for GMonster.
Conclusion
GMonster is one platform with countless opportunities. Whether you are having a business of your own or have a freelancer approach that tends to find business opportunities in everything, GMonster is the platform for you. With fairly affordable subscription plans and matchless security and protection system, you can expect that most of your emails are reaching direct clients and directly helping you generate impressive leads and ultimately sales. GMonster sure is a great deal for the buck – Contact GMonster for any relevant queries and plan to Try Now!