10 Tips to Send Emails Like a Boss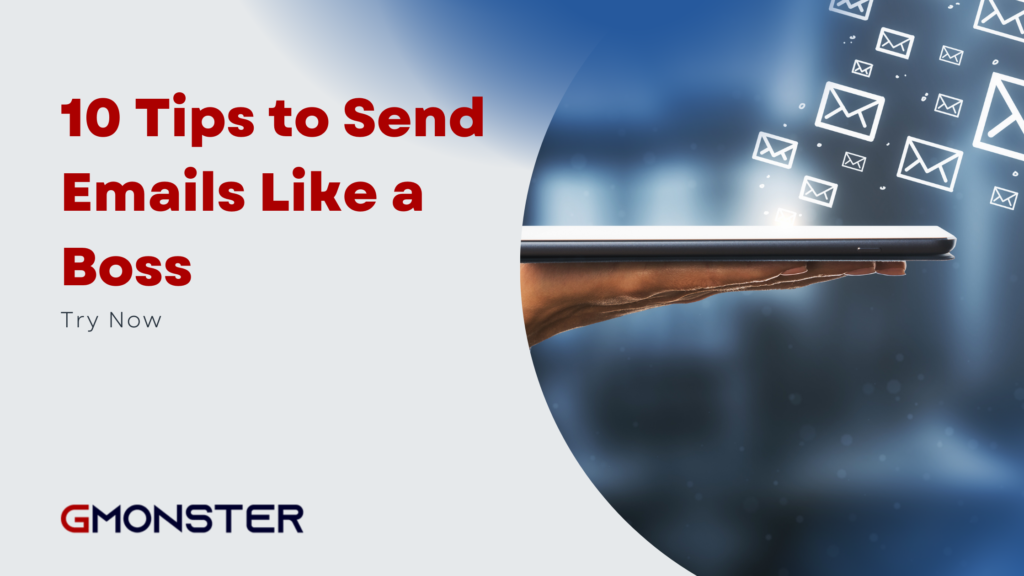 For making a business successful and a sparkling career, email marketing plays a crucial role. The composition of emails decides how many conversions you will get from your prospects. As a result, it is essential to know the right template for writing winning emails like a pro. If you are unaware of champion mails exerting leading results, check out GMonster top 10 tips to send emails like a boss below.
1.  Be Focused in Your Emails
Whenever you think of writing emails like a boss, you need to be careful about probing an email purpose. For instance, do you want to inform leads about your services or apologize for any inconvenience to your enterprise? Next, write an email according to your motive. First, you have to choose a specific pattern of email that embarks on the spirit of opening a mail. Then, elaborate on a custom message you wish to convey.
2.  Begin with a Purposeful Subject Line
It does not matter whether you are sending an email to your company or an individual; writing a compelling email can make you an evangelist for clinching the attraction of your target audience. Just make sure to make your headline smart and catchy. It assists clients in recognizing what is the prompt behind your communication for maintaining a connection with them via emails. After reading the subject line, your users must understand your intention and open worthful emails instead of shifting them into a trash box. All your business emails can make or break your potential sales.
3.  Address Leads Competently
Let's suppose you are sending an email to your colleague, and you start your mail by saying Hey. It is ok with your friends, but you need some appropriate changes for addressing users in a professional scenario. For example, you can say Dear. Furthermore, Hi and Hello is also suitable. However, if you already know the specific user's name, it is highly recommended to use it for addressing him/her.
4.  Write Easy-to-Understand Email
Complex emails with intricate phrases do not grab users towards your brand. So, you have to make your emails easy to understand for everyone. You can also accomplish an excellent formatting technique like skimming and highlighting prominent points to get notified by the audience. Next, you can also write important paragraphs at the top.
5.  Mention Deadlines Clearly
Let's suppose you receive an email from a car insurance company having discounted deal for you. But it does not contain any deadline for validation of the discount. This lack of knowledge can divert your attention. The same case is with everyone. Therefore, if you want to adopt the tactic of writing emails like a professional, clearly mention deadlines. Through it, users will respond promptly, and you will benefit from it.
6.  Adapt with a Formal Language
In writing emails like a boss, adopting a formal language within emails is unignorable. In the professional atmosphere, you need to keep an eye on the language style of emails. Then, follow the winning email languages after proper analysis. One of the identical tricks is to avoid the usage of too much colour with the addition of emojis. If you are still willing to incorporate it, you can select one typeface with minimum emojis. Do not ever use slang language alongside colourful emojis to ensure email formality.
7.  Be Grateful and Obliged
Without being thankful and kind, it is impossible to win the hearts of your customers. The reason behind this is that users are tense from their hectic daily routine and do not have enough time to read emails. Your grateful behaviours can only compel them to read your emails. Therefore, adopt a respectful tone in your emails instead of a content having rude venture.
8.  Add Some Spices to Reality
If you integrate some wit into your email content strategy, you can get more sales than being too realistic. Boost up your business with amplifying perks is a spiffing tactic to stand out among your competitors. However, always keep away from becoming silly or dramatic or jumping into a fantasy land of emails.
9.  Always Proofread the Emails
Proofreading is compulsory whether you are sending a lengthy email or a short write-up. If you skip this step, you are buying a massive risk of breaking your sales process in a professional environment. After writing emails like a boss, pay a close towards your developed content. Eradicate grammatical and formatting errors completely and edit emails if needed quickly before pressing a sending button.
10.  Get a Particular Signature
You have to carefully pick up a particular signature like "Best Regards" or "Thank you" based on the content of your email. If you feel troublesome with an addition of a closing signature at the end of every email, you can easily automate this process.
Wrapping Up
Writing emails like a boss is not an arduous task. You can write effective emails after following our above guidelines. Already have a nicely written email? Try GMonster to send to the bulk of users at once.