How to Write B2B Outreach Emails: Strategies and Examples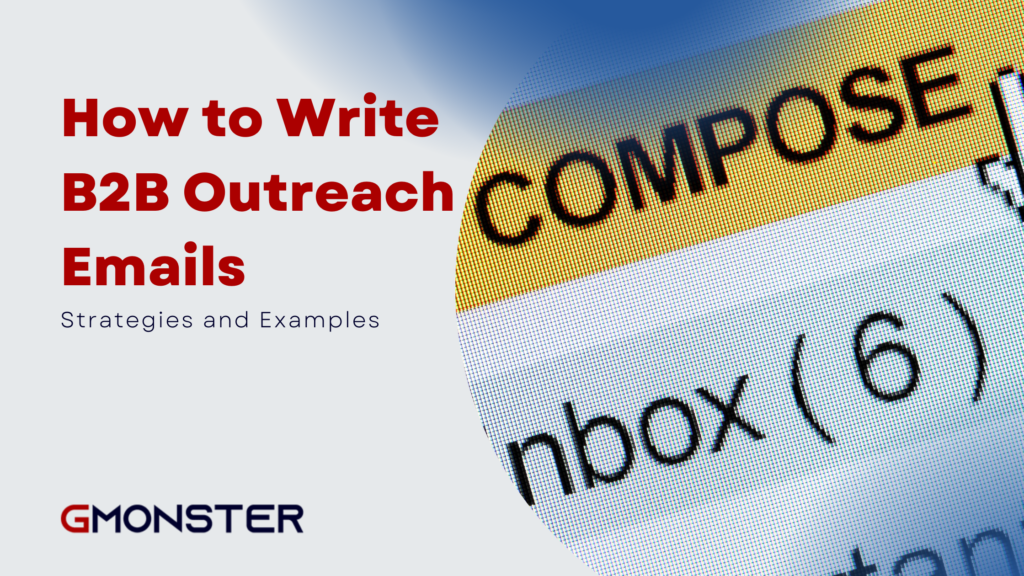 As a B2B marketer, mastering to write up various B2B emails can help you drive sales and build stronger client relationships by generating leads. Writing an effective B2B cold email requires implementing some proven-to-be-efficient strategies to ensure maximum cold outreach. Also, using a professional template to maximize efficiency can work straight away.
To help you write the best B2B outreach emails, the article includes best practices; format do's and don'ts, personalization, tips to get client addresses legally, and some examples of good and bad outreach emails.
How to Write Effective B2B Emails
Here's a three-step guide on how to write a close-to-perfect B2B email that can resonate with your client's addresses:
Step 1: Use a Compelling Subject Line Can Work
The subject line is the first thing to catch attention in any email, and it can prompt the receiver's action to open up the email. The experts say that most the recipients open up an email solely due to its catchy subject line. To write compelling subject lines, be creative and develop an interest but do not try to write any scamming or false statements like 'prize, gift, etc.' That is because a piece of false information can get a one-time click but can never build longer client relationships, which matters the most in B2B settings.
A Tip: You can try personalizing the subject line with your recipient's name to catch his attention to boost the open and response rate.
Step 2: Address the Pain Points of Your Audience
Selling what a customer wants to buy often works. Instead of stuffing the email body with dry lines, try to target the pain point of your targeted audience and then offer your service/product as a solution to their problem. In simpler words, create an echo with their concerns, empathize, offer a viable solution, and offer your service or product as help.
Fact: Studies show that the recipients usually only spend about 8 seconds reading the email. The sender's challenge is to grab his interest in these 8 seconds.
Step 3: Don't Forget to Add an Impactful CTA
If you have created the reader's interest in your product, you are halfway on the journey. The next half demands the recipient to land on your business page or any linked inbox to start the conversation that might end in a lead or a potential sale. For this purpose, use an impactful and quite visible CTI or Call To Action at the end of your B2B email like 'Sign up for the newsletter,' 'Visit the site,' 'Free Download,' 'Request a demo,' or 'Subscribe to get the services,' etc.
A Tip: A direct, readable, clear, and easy-to-click call to action can work great, whereas complex, tough-to-understand or smaller CTAs will never help.
Some Examples of a Good and Bad B2B email
The content, subject line, graphics, illustrations, call to action buttons, or pop-ups – a balance between these elements of an email is the gateway to better leads and conversions. In a nutshell, your emails should not bother the recipient and should never exaggerate on any point. Above all, being creative can make you a master. For a better illustration of these concepts, here are some examples of good and bad emails.
1.     Mint's Update Email – A Precise and Efficient Email
You can use a B2B email to remind your customers about existing services, statistics, or information you might want to deliver. In this example of good creative email, the company Mint used its email service to remind clients to check credit scores. The content is minimal, the graphics are soothing to the eyes, and the imagery aligns with the subject line.

2.     Dulles Designs Stationary – A Productive Sales Email
Sometimes, coming up with an idea to generate creative emails for your specific services becomes a challenge, and one such challenging industry is stationary. Dulles Designs, a stationary company, creatively offers its services in the email campaign using 'how' or 'service images' in the content. The content is brief, the imagery is attractive, and the service offer is to the point.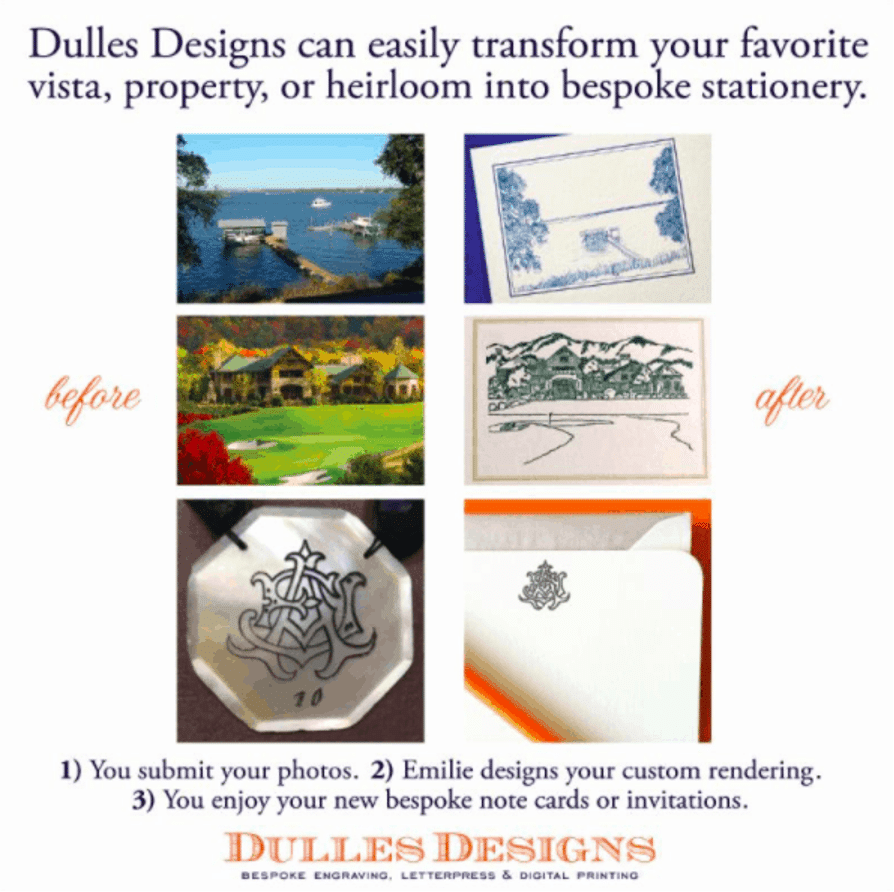 3.     Black-Ink like Dry Emails – A Bad Template to Use
The latest era shows your services, products, or talents in the imagery or video content instead of writing them up in the traditional black-ink writing style. One such email that cannot attract its recipient is given below. Other than not using any colours or imagery, the subject line, content alignment, and choice and lengths of words, every aspect adds more points to failure.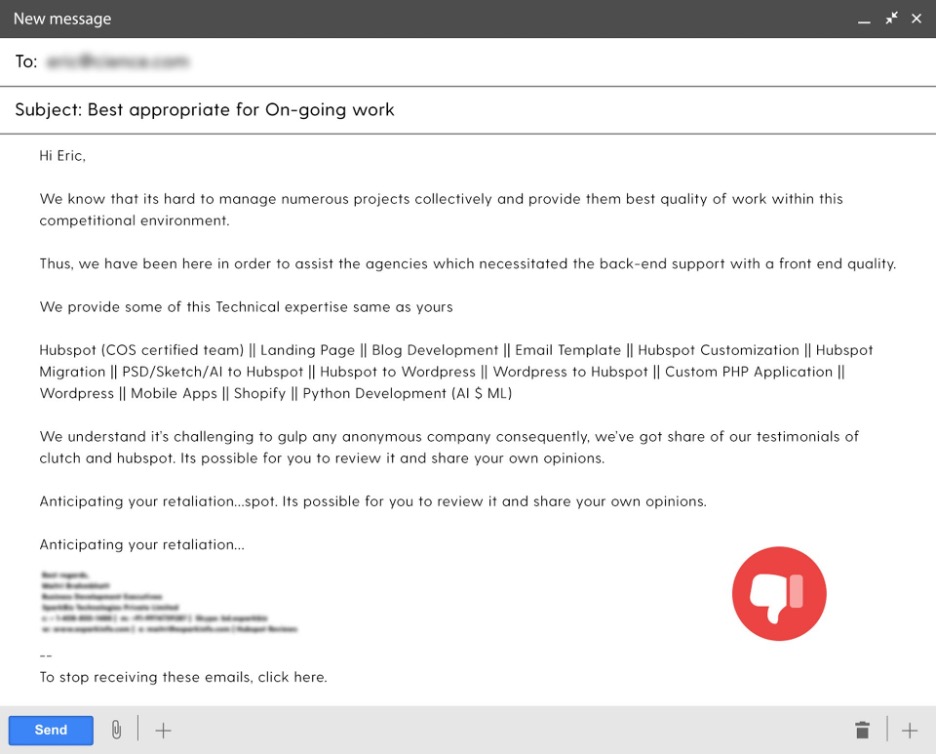 There can be many other examples to explain good and bad emails. Still, you can save the confusion of understanding by focusing on the exceptional templates and tips to write quality emails below.
Exceptional B2B Email Templates to Go With
Sending exceptionally efficient emails is a skill that you can master with time, and in the beginning, sticking to a pre-designed template can work wonders for you. These templates can boost the outcomes of your marketing and cold sales campaigns:
1. Welcome B2B Email Template
A welcome email sent to new clients is a gesture to build healthy relationships with your recipients as they sign up for your site. This B2B template can help you introduce yourself in a corporate yet friendly way to develop relations.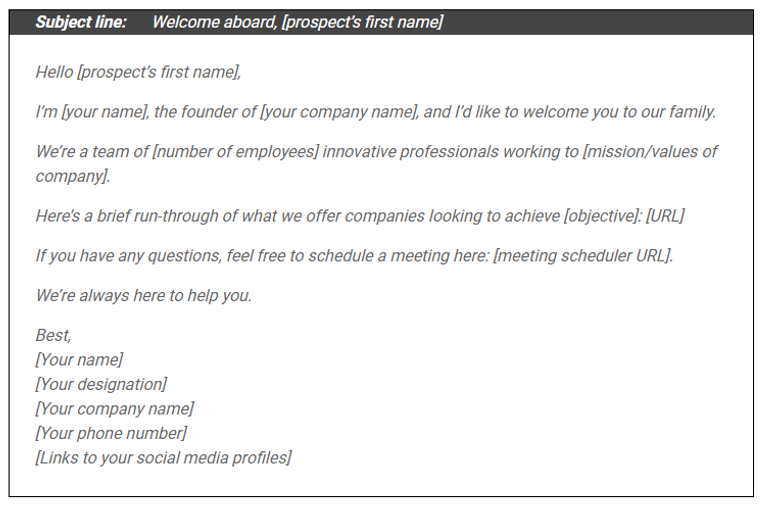 2. Promotional B2B Email Template
After sending a welcoming email to your new subscribers or other recipients, the next email is for the product promotion that helps your business generate leads and ultimately direct sales. These promotional emails should be free of words like 'bonus,' 'price,' 'buy,' 'purchase,' to maintain the email's authenticity.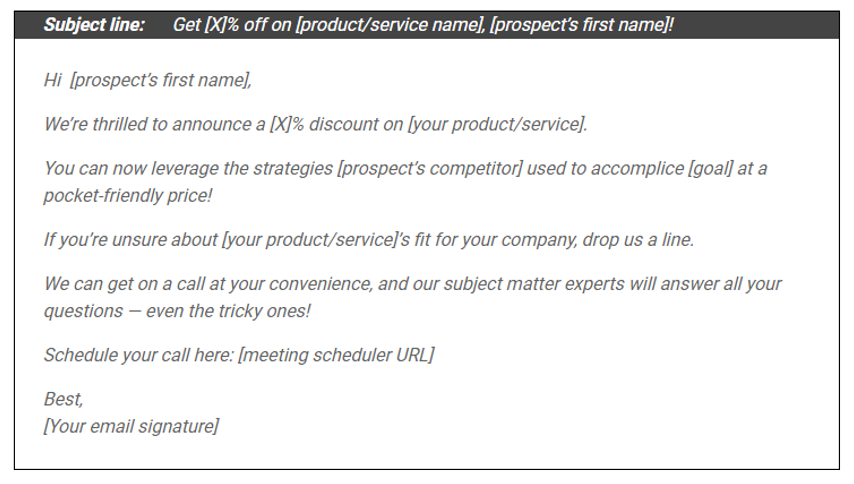 3.     Case Study B2B Cold email Template
Sending a case study email to your clients who might want to know about your business can also be great to connect or leave an impression. Sharing a brief case study in a B2B email showcasing your success and growth within your corporate domain can help you gain your client's trust.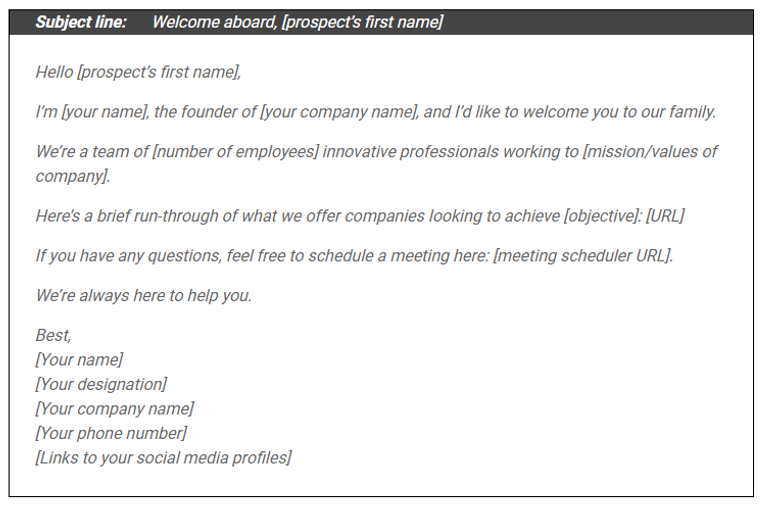 Other than these emails, you can also consider sending request demos, video emails, curated content, and free trial B2B emails to build leading relationships with your clients in the long run. If well-written, these emails can significantly help your B2B business be authentic and ultimately impactful. There are certain practices that you can opt to be as authentic as possible, and one of them is finding and collecting organic addresses to ensure maximum cold outreach. Here's how to do this!
How to Collect Valuable Recipient Addresses – Handy Tips
There are different ways to collect and generate a list of valuable email addresses to ensure none of the addresses are fake and your cold email campaign is reaching to a maximum targeted audience.
A Tip: Never go for email address lists being sold for some dollars, as these lists are usually full of fake accounts and can make your sender account spam suspect.
Some handy tips for building a list of authentic email addresses are:
Offer 'knowledge products' like tips, guides, presentations, tutorials, or interviews with the leaders in your sector
Use creative direct-targeted Facebook ads for collecting a list of leads, including names and emails
Promote your newsletter using your website or other platforms
Instead of sending mass emails, group your recipients according to their interests and send relevant emails.
Use popups to catch the eye when promoting special offers
Think about the free resources to offer to your business's targeted customer
Along with collecting a list of authentic and interest-based recipient addresses, working on some tips and tricks can improve your email's outreach to the maximum. Here are the handy tips!
Tips to Improve Your B2B Email Quality
Conclusively, it is the overall quality of your B2B marketing emails that matters. You can consider working on different aspects of an email from time to time to ensure you are keeping up with the quality. Some handful tips for doing so are:
Know your audience so you can write resonating email

Use personalized content for your potential B2B customers
Keep your email focused, brief, and precise – do not exaggerate
Or use an efficient and facilitating email marketing tool like GMonster
Be clear of your objectives in the email body for better conversions
How GMonster Can Help Your B2B email Outreach
GMonster is a well-crafted mass mail merger for Gmail that helps you run efficient and productive B2B or other cold email campaigns. As the platform is a digital tool that takes care of the mailing issues like spamming and block notifications, it is reliable to expect maximum outreach and, ultimately, better sales. With GMonster, you can send unlimited emails and can use unlimited Gmail accounts in one window. Just write up an efficient email considering the above guidelines, and for the rest, GMonster is enough!