Gmail Is Your Best Solution for Email Marketing: Here's why!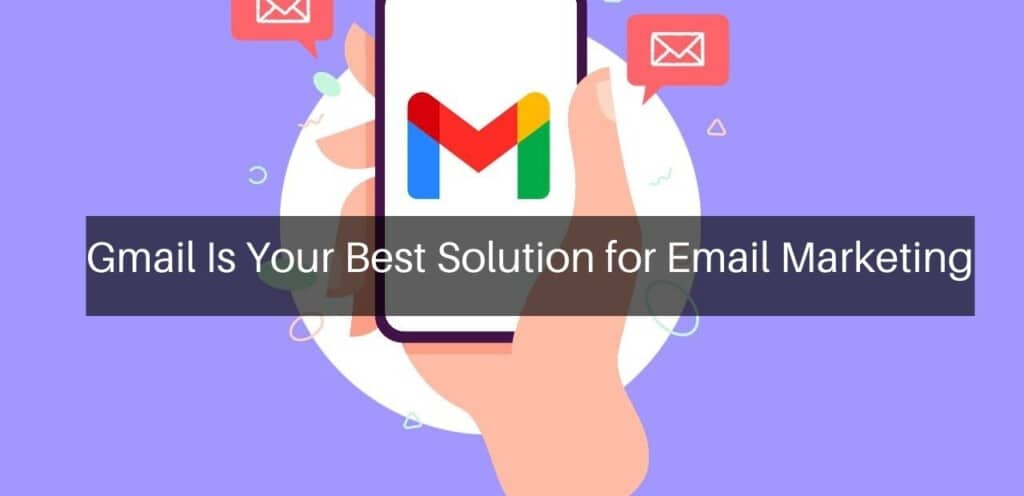 Gmail is probably the only platform that offers almost everything you need to send emails for marketing purposes. Here are some basic features that make Gmail your best solution for email marketing.
Gmail Features that Guarantee Efficient Email Marketing
Inbox Organization
Inbox organization in Gmail is way more convenient based on labeling and using up to five tabs. You can now assign different colors to each label and flag important messages for quick reach. Also, you get two different displays for your inbox: priority inbox or classic inbox.
Hangouts and Circles
Gmail allows you to access your Hangouts directly from your email without pulling up extra tabs. It can help you conduct virtual meetings with many people simultaneously to support customer interaction during email marketing.
Impressive Contact Management
With Gmail, you can conveniently import your important marketing contacts either from plenty of other email providers like Yahoo, Outlook.com, and AOL as a CSV or a vCard file. Also, you can import your Google+ social media contacts or phone contacts to target the right audience in your marketing campaigns.
Stars Feature
Gmail's star feature makes it easier to scan through the piles of emails and sort out important ones. This feature ensures that you save enough time and effort in sorting emails.
Search Capabilities
In Gmail, you can search any required combination of many provided elements like label, tab, category, subject, from, to, keywords, attachment, body text, chat, date, or message size by using the advanced search.
Google Drive
With Gmail, you can share any file directly from Google Drive to save the hassle of a file's loading time. It allows you to upload up to 10GB of files, which is way more than what other mailing platforms offer. Also, you get plenty of related tools like Docs, Sheets, Photos, Slides, Forms, Calendar, and Drawings.
Undo Send
Gmail can save you from the embarrassment of sending an incomplete or wrong email to your recipients. Hit the "undo send" button, which appears on the screen for a few seconds after you send the email and save your life.
Authentication
Gmail has gained user trust because it uses authentication icons on any email sent from a verified sender like PayPal or eBay. That way, it also reduces the chances of scams.
Custom Marketing Domains
Gmail is quite flexible from a marketing perspective as it offers custom domains like [email protected]. These custom domains are significant reasons for making Gmail a marketing-friendly emailing platform.
Free add-ons
There is a whole mystery box of free marketing add-ons that you can install to facilitate your Gmail email marketing in many ways. The add-ons like WiseStamp, Boomerang, Yesware, and GMass enable smoother, productive, efficient, and leads generating emails that you can download from the Google Chrome store.
Intelligence Features
Many other intelligent features in Gmail make it a highly compatible email marketing platform. For example, you can set priority notifications, benefit from intelligent search suggestions, create calendar entries, use email translations, and enjoy assistive writing suggestions to make the email even more professional and user-friendly.
Huge Storage and Security
One Gmail account offers 15GB of free storage that you can increase on cheap monthly pricing plans. Also, Gmail cares about its user's data security and hence comes secured with SSL encryption. It also features 2-Step Verification to control unauthorized logins and spam detection to check faulty emails. With Gmail, you can better control your privacy, login histories, and activities.
Note: You also need to consider some standard best practices for Gmail that include good image-text-html ratio (20% image, 80% text, 25% or above html), average email size (no more than 102 kB), no overuse of promotional words, sending welcoming emails to new subscribers, having a Google account, adding shorter subject lines, and creating a 'from name' of less than 20 characters, etc. These practices ensure a productive marketing campaign using Gmail.  
Gmail Alone is not a Complete Solution!
Though Gmail is one of the best email marketing platforms, some of its features or properties may affect the smooth cold emailing process. For example, Gmail offers Email templates only on the web and not for the mobile apps, the mails are not end to end encrypted, trouble using hyperlinks in the Android and iOS Gmails, no 'sweep' feature to delete mass emails from one sender, and troublesome contact export from other sources.
These lacking features can overall affect the quality of email marketing, value of time, and cold outreach. And when you cannot struggle with every hurdle one by one, using a platform like GMonster, the mass mail merger for Gmail, can significantly help.
You can benefit from plenty of in-built resources and features and rest assured that your cold email marketing is proceeding through safe hands. GMonster is one of the most reliable emailing platform that offers the best pampered service with unlimited emails and unlimited Gmail accounts in one window.
GMonster – The Mass Mail Merger for Gmail
GMonster supports mass emailing connoisseurs, which allows you to send up to 10 to 50k emails in a day to generate leads and, ultimately, sales like never before. Also, you can plug all your Gmail accounts with GMonster and still manage to reply through the original recipient. Adding on, GMonster comes with the best inbox rates in the industry opposed to renting SMTP servers.
Although most mass email senders have used SMTP server for years, it is now flagged by spam filters. Therefore, there are chances that your emails will be spammed and land into the spam folders instead of the recipient's inbox. On the other hand, GMonster effortlessly controls such spamming flagships and leaves no loop wholes for your emails to get spammed.
Other benefits of using GMonster for email marketing include email customization tools, A/B testing, setting the delay between each email, tracking email opens, using webhooks and sending plain text or HTML. It makes GMonster your one-stop solution for efficient email marketing using Gmail accounts.